Skip to Content
Tire Services (Repair, Rotation, Balancing)
Total Tire Services in Springfield, MO
When it comes to your car, your tires are literally where the rubber meets the road. In many cases, the difference between a collision and a safe ride home is a set of high-quality tires that are well maintained. The National Highway Traffic Safety Administration estimates that more than 11,000 accidents happen each year because of bad tires. Don't let it be you. GL Moore Tire Pros supplies tire services to Springfield, MO including tire repair, tire rotation, and tire balancing services. Our tire technicians perform fast work without sacrificing their high standard of craftsmanship.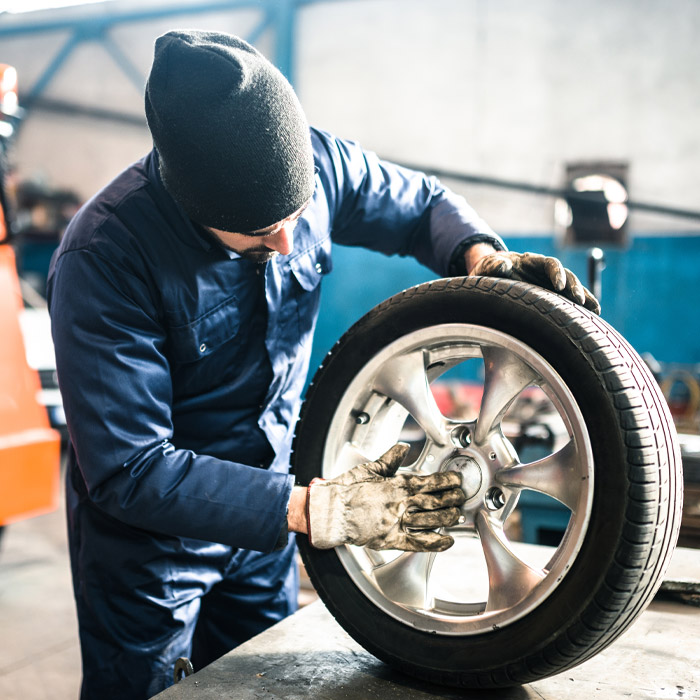 Repairing and Replacing Tire Pressure Monitoring Systems
Your Tire Pressure Monitoring System is an excellent way to know when your tires need more air. By simply looking at your dashboard, you will know how much air is in each tire. You will usually get an alert when one tire is getting low too. This works through a system of sensors in each tire. These real-time sensors will last somewhere between 7 and 9 years. After that, they tend to malfunction and require replacements. If you notice that your vehicle's warning light is coming on when your tires are not losing air, it is a sure-fire sign that you need to replace your sensors. Our team can easily replace these sensors and recalibrate them to your vehicle, no matter the make and model.
We Repair, Rotate, & Balance Tires
Our team is trained to know everything there is to know about tire repairs, rotations, and balancing. When you come to GL Moore Tire Pros, you can trust that your tires will receive complete service. That service includes the following:
Tire Repair
When you get a flat, you may not need to replace your tire completely. The majority of tire punctures that occur in the center area of the tread are easily repairable. Even better, tire repairs are speedy and highly affordable.
Tire Rotation
Rotating your tires encourages the tread to wear at an even rate. This extends the life of your tires significantly. The pros suggest rotating your tires every 3,000 to 6,000 miles. We also rotate your tires along with every oil change.
Tire Balancing
Modern vehicles have computerized tire balancing systems, but they become unbalanced over time. This unevenly distributes the weight of your vehicle over your tires, negatively affecting your fuel economy, stability, comfort, and the wear of your tires. Our tire balancing services will set this system straight.
Expert Tire Balancing and Replacement Services
At GL Moore Tire Pros, we use state-of-the-art technology to ensure your tires are perfectly balanced. All our tire technicians are trained to use the Hunter Road Force® Elite Wheel Balancer and Touchless Tire Changer. This allows us to change your tires more quickly and balance them with a higher level of precision. This protects your vehicle from grease and oil that may get on your rims when tires are manually changed. It also ensures that you have the smoothest ride possible.
Schedule Professional Tire Services from GL Moore Tire Pros!
Whether you need a tire repaired, replaced, balanced, or rotated, our shop is the place to go. Our technicians are dedicated to providing the most exceptional tire services found anywhere in the world. We know how to perform speedy service while maintaining a high standard of work. When it's time to get help with your tires, go to the pros. To schedule an appointment, call our shop directly or set up an appointment online.