Skip to Content
Battery and Electrical Repairs From the Pros
Almost every part of your vehicle relies on your battery. Modern vehicles use electronics to manage everything from your radio to your smart safety features. So, when your battery or other electrical components fail, it can be overwhelming. GL Moore Tire Pros provides professional battery and electrical repairs in Springfield, MO. Replacing your battery before it's dead is the best way to prevent getting stranded with a car that won't start. On top of that, battery replacements are some of the quickest and most budget-friendly automotive services. We can help you with routine battery maintenance, battery replacements, and any other electrical work you may need.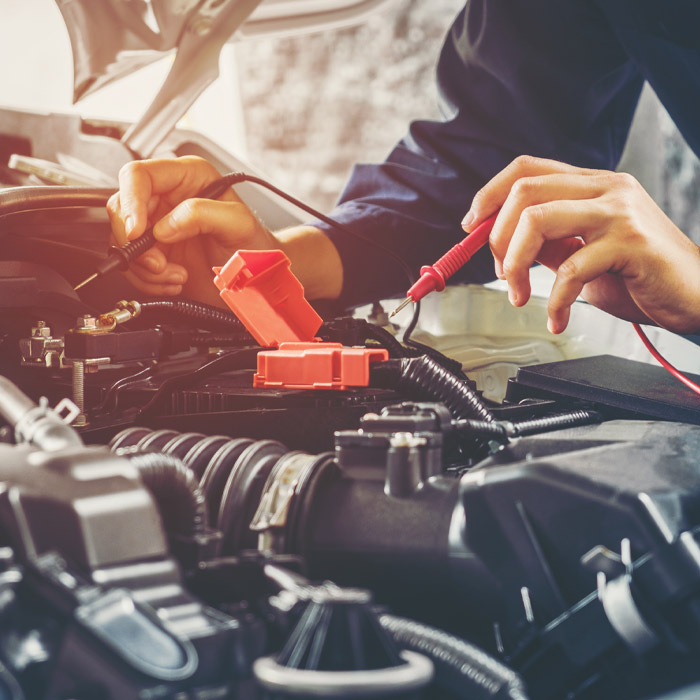 Let Us Check Your Battery
Identifying a problem with your battery or electrical system is pretty straightforward. Your battery is probably the culprit if your car won't start, and none of the other electronics are working like your dome light, radio, or power windows. However, getting to the root cause of the problem can be more complex. Do you have a healthy battery that just died once? Is your battery incapable of holding a charge anymore? Is there another electrical problem that's preventing your battery from recharging?
Our team of professionally trained technicians is here to test your battery and inspect your entire electrical system. During our inspection, we not only test the condition of your battery. We also visually inspect your terminals, cables, and battery fluid. We can even help identify if your battery fails to charge due to an alternator issue. Most professional mechanics recommend that car owners test their batteries every 5,000 miles or during their routine oil change.
Quick and Convenient Battery Replacement Services
If your battery dies, jump-start your car and bring it straight to our shop. We can help you find out why your battery died and fix the problem on the spot. If there is a problem with your battery, the quickest and most affordable solution is usually just to replace it. Most of the time, battery replacements only take an hour to perform. So, we can get you back on the road in no time. To schedule your battery replacement, call us or schedule an appointment online.