Skip to Content
Taking the Wheel at Tire Pros & Automotive Inc.
After more than four decades in business, G.L. Moore Tire Pros & Automotive Inc. is ushering in a third generation of leadership. At 33 years old, Whitney Moore prepares to become co‐owner in a male‐dominated industry.
BY JENNIFER ADAMSON | PHOTOS BY BRAD ZWEERINK
Whitney Moore describes herself as determined, passionate, and ambitious—three traits that are a must for a female leader trying to make a name for herself in the male-dominated, no-nonsense automotive industry. Moore is office manager at G.L. Moore Tire Pros & Automotive Inc., a familyrun company serving the Ozarks since 1971. Her dad, Mark, inherited the business from his aunt and uncle Sandy and Gary "G.L." Moore, and soon he will split ownership of the business with Whitney, eventually leaving her in the driver's seat. "I don't know that it was necessarily ever a plan for me to be an owner," Whitney says. "My parents never wanted to force the shop and business on me. They wanted me to want it." After more than a decade of mentorship from Mark, she is prepared and excited about the transition but admits there is some pressure to uphold the legacy her family has established.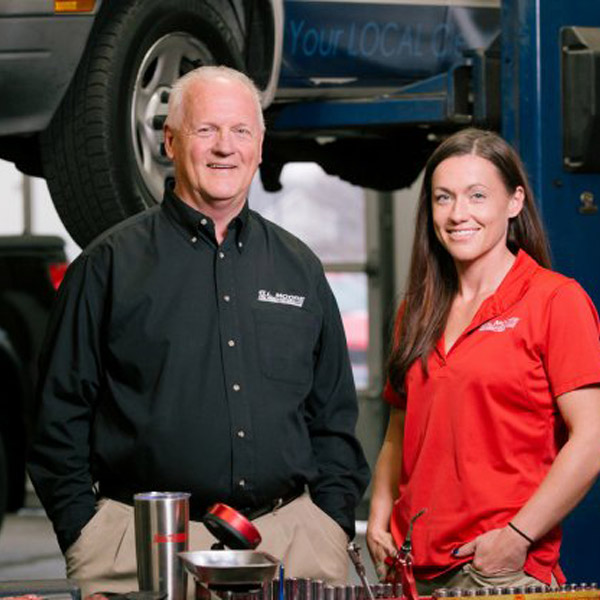 "My parents never wanted to force the shop and business on me. They wanted me to want it."

– Whitney Moore, Office Manager at G.L. Moore Tire Pros & Automative Inc.
When she first joined the company, Whitney was a 19-year-old working her way through the criminal justice program at Missouri State University and, like most college students, needed some extra cash. She took a part-time job doing odds and ends around the shop. Answering phones turned into answering payroll questions, and soon she was the go-to person for all things business-related. "At the time, there weren't a lot of females in the industry, and I liked that challenge a little bit," she says. "Having that level of trust and responsibility that was given to me gave me confidence in myself."
By 2003, Whitney was thriving as office manager and had switched her major to business, intent on learning all she could about how to run a successful company. Her dad was now her mentor, grooming her for the transition to upper management. "I knew what it was going to take to get there," Mark says. "Whether she agreed with my decisions or not, we were good. I'm not saying my way was always the right way, but I'm really good at what I do. I believe that. And I think she saw that."
Whitney says her relationship with her dad is built on respect, and although it's sometimes hard to put their personal connection aside, she's learned to accept his criticism and advice and suggests other next generation leaders follow her example. "It's kind of setting that ego aside for the betterment of the company," she says. "You know, letting him be right sometimes, stepping back and understanding he knows what he's talking about. That patience gives me a broader perspective that comes from some perspective he has that I haven't learned yet."
But as more of the workload gets handed down, she is finding a balance between doing things her dad's way and implementing her own ideas, such as giving customers access to tablets so they can see different types of tires in action. "You can't be scared to make it your own, but at the same time, you can't discount the generations before," she says. In turn, her dad is moving into the passenger lane and giving her room to charge ahead full speed.
Now, there's a lot riding on her shoulders. The fear of tarnishing the company's reputation is real as she strives to prove she's more than just the boss's daughter. "There's a lot of pressure with employees and coworkers," Whitney says. "I didn't get a lot of respect when I first started, but now I think I've earned it. I definitely credit that to my parents and my upbringing. I have a strong work ethic, determination, knowledge, education, experience." Mark agrees. "She's got a drive in her, and that's what I gained from [my] dad and Gary, a drive to be as best as you can be," he says. "Statistics go that the third generation is always the one that seems to take the business in the wrong way, but I can't see her failing for any reason."